remember these: … A little bit of fashion ? Those were all taken a couple of years ago in Brussels, when I met Erika Albonetti for a morning session. They were shot on film with the Rolleiflex twin lens reflex I have been cherishing for a couple of years now.
Time for a new 'working collectible', (although you've seen some results before with this camera here). The Fujica GW690ii, with a fixed 90mm f3.5 lens. Nicknamed the Texas Leica, it handles more or less like a Leica, but then one for big hands 😉
See the comparison with my Fuji X100f here, a big chuck of camera:
It is a viewfinder camera, but then in the medium format class, the negatives are with their size of  6×9 cm also huge in comparison with the X100f sensor size. (14.66 times bigger area)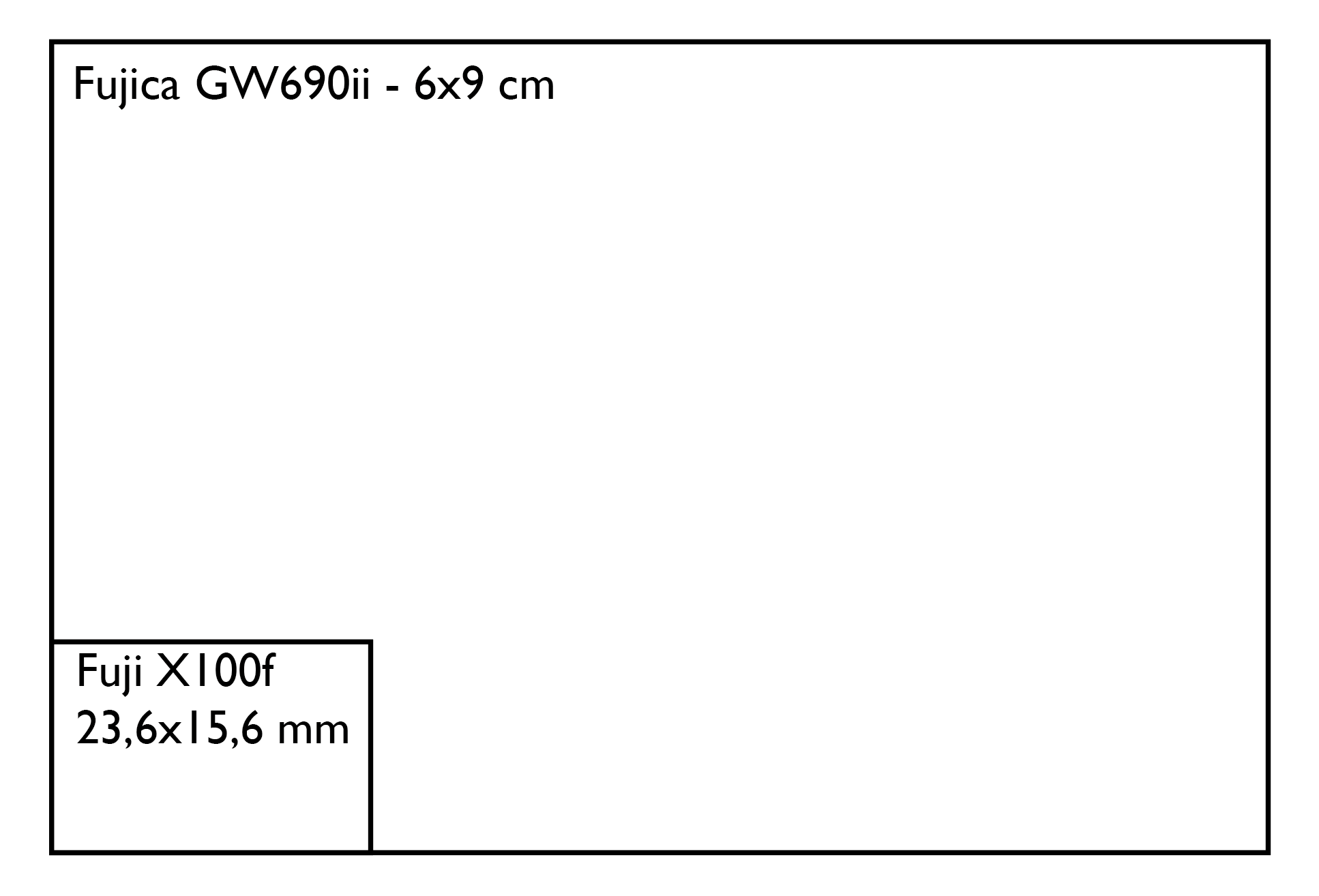 This large format gives a narrower depth of film, so even with relatively closed apertures you still get narrow sharpness and softer backgrounds.
Like a lot of analog camera's of older age, the Fujica has the shutter built into the lens, not in the camera. The shutter is a leaf shutter, a bit similar like an aperture, so opening from the center of the lens. The shutter speed is to be set on the lens as well as the aperture. focusing is manual and the viewfinder proves to be a lot more accurate than the matte screen on the Rolleiflex.
The camera itself is very simple in operation, there's only a switch to be set to the right type of film 120 or 220, two shutter release buttons (one on top, one on the front side) and a film advancing lever (which you need to crank one and a half turn for a complete transport). There's no built in light meter and no electronics at all, despite its rather modern looks and recent built year(1985), that's rare. It has a built in frame counter (counts one unit per 10 frames) on the bottom of the camera. If the counter says 10 it has shot 100 frames. It also came in 6×7 (GW670) and 6×8 (GW680) film formats. These camera's are well known for their robustness, with a fixed lens and so little things that can break, that seems logical. It weighs 1440 grams. It is frequently sold on Ebay, for prices ranging from €400 – €700.
As said before, focussing is a lot easier on this camera than on the Rolleiflex or for what its worth with the Voightlander Bessa I also have and which has the same film size but only a metering scale on the lens. With the Fujica I get every frame to be sharp (if I pay attention)!
Altough I still like the square format more, I'm ok with this 2×3 aspect ratio which we all know from current digital reflex camera's. The number of shots per roll gets more limited though (8 in stead of 12) and thus you even need to be more attentive for each shot.
The images were made in Brussels, with Sofi ka, an Ukrainian model traveling Europe on a regular basis. We had a walk in Brussels in the morning, enjoying beautiful light in the city.
I shot this film in colour (Kodak Portra 160) and then another film in Black and white (see below). One film, alle shots: Sofi Ka in Brussels.
All negatives are 'DSLR-scanned' and converted to positives with Negative Lab Pro in Lightroom.
I also shot another film, which apparently was a gift from someone, and after further investigation by Ilford, the film turned out to be from 1992 … it came out all mottled and speckled, including the backpaper frame numbers in the negatives 🙁  bummer, although some people seem to appreciate the artistic qualities of it. …
Mjeah, maybe with a little bit of sepia colouring and some vignetting 😀 let me know what you thing
that'll be all for today, thanks for reading!
Ludwig