Hi there, for a change a gear review post.
For landscape work I have been a pleased owner of a Berlebach report tripod for many years now. I have had a little issue with it last year, which has been solved amazingly well by the Berlebach company, see my post about it here: https://www.ludwigdesmet.com/2016/09/19/thumbs-up-for-excellent-customer-service-berlebach/
I have taken this tripod with me on my motorbike on many occasions, mostly when giving classes to adults, but it is not very practical because the tripod is big. When mounted it extends beyond the two big panniers I have on my large bike! (BMW R1200GS).
So I have been looking for a smaller tripod for last summer's trip to Scotland, and for lighter travelling to Corsica weeks after that. I bought the Sirui T-005X with C-10S ballhead, from the T05X Series Traveler Ultralight
It is a lightweight, very compact package, weighs 0.8 kgs and has a maximum height of 137cm and a packing size of 33 cm. This makes it ideal for my motorcycle travels or when you are traveling light in any other way.
How did it fare?
I found it very well performing in quiet weather conditions. The image below is a behind the scene's shot on a trip out, rain pouring down all day, overcast and not much light, so a tripod was mandatory for I had pretty long shutter times. 0,6s at f11 and ISO100 for the below image.
Image taken in Strontian, Ariundle, Scotland.
as you can see the tripod legs have several spread angle's, which comes in handy on uneven terrain. The feet are very tiny at approximately 18mm diameter, so some care on where to put them is to be taken. Otherwise, the tripod gave me a perfectly sharp image.
When walking with the camera, the ball head clearly is too weak for a big DSLR (Canon 5Ds) even with a moderately light lens on it. (Canons 17-40 mm f4L, with a weight of 475g) The camera will start heading down soon, no matter how tight you fasten the head knob.
Otherwise, no complaints here.
In Corsica I stumbled upon a deserted hotel, that inspired me to do some long exposure shots. The weather was sunny with clouds, and a rather strong wind, with gusts up to 80km/h (45-50 miles), the building was partly surrounded by green area, with scattered trees. Still I chose to remove the center column of the tripod, for increased stability. (the center column only supported in a single point is the least stable element in all tripods) The removal of the center column is really easy, and the ballhead then screws directly on the tripod base, resulting a much stabler unit. I have no behind the scenes image of this setup so I'll grap a marketing image from Siriu: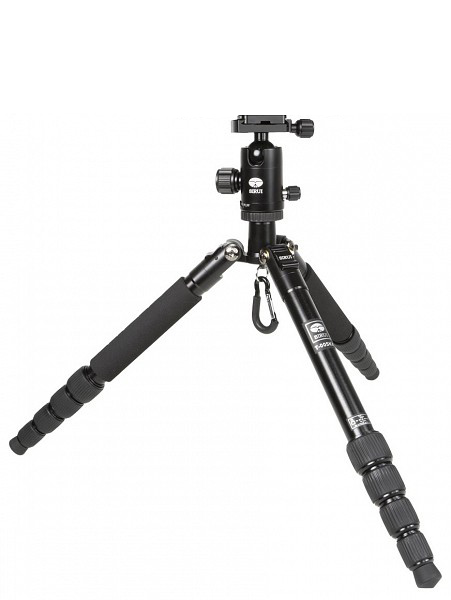 I still had the tripod set up with the legs fully extended in most images, and made perfectly sharp images with shutter speeds over 2 minutes: 121s f13 ISO125 and detail below. I have no images that show camera movements, so I think this is very good proof of the stability of this setup.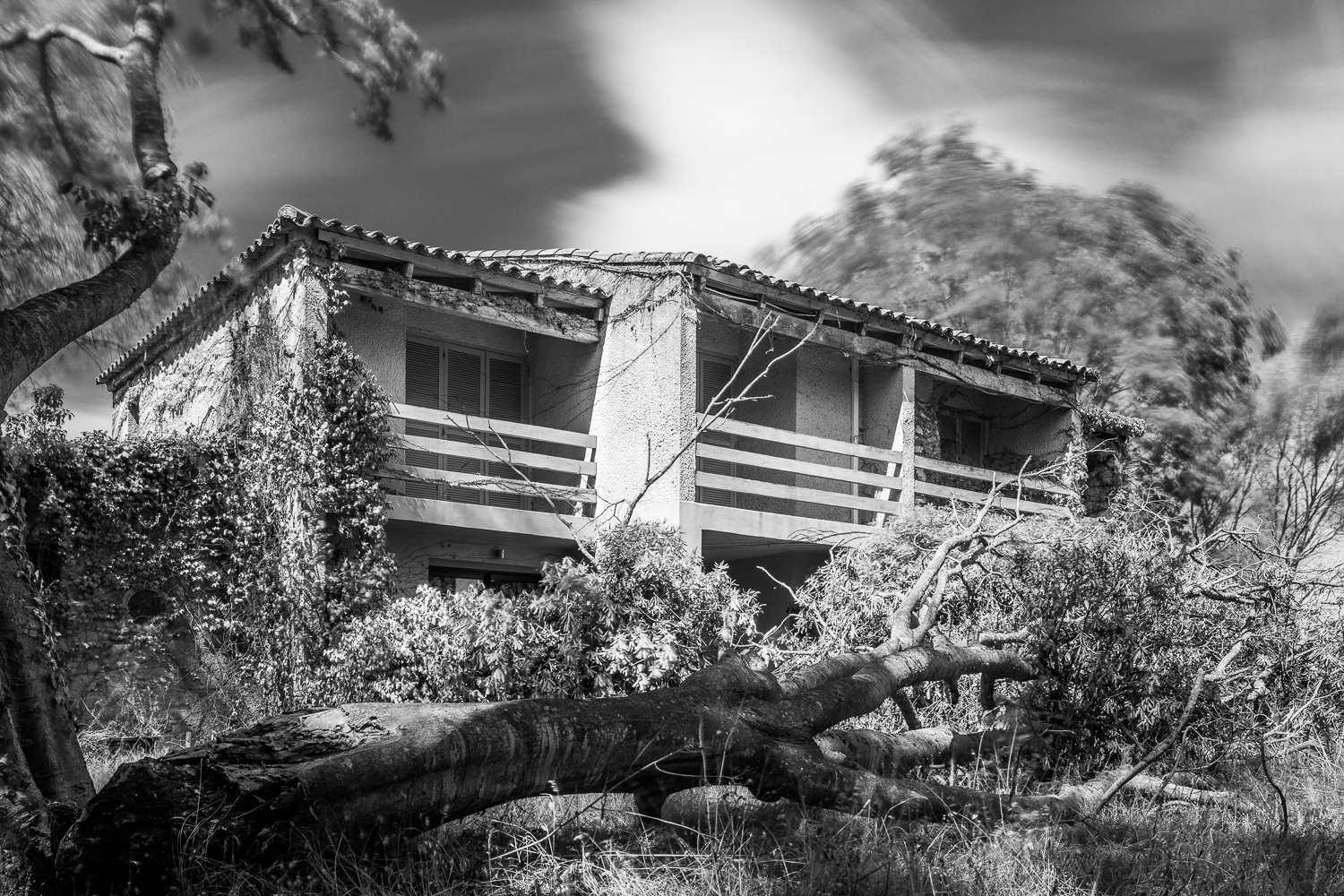 The downsides:
I find the leg opening/closing grips rather soft, and some seem to show some wear already, curious to know how long they will last. Also the camera plate is very small, this is clearly not aimed at DSLR users, but more towards the high end compact, light system camera's. Fortunately the system is Arca Swiss compatible, so I can use my Berlebach dovetail type plates in stead. The ball head, although said to hold 4kgs, will certainly not hold its position when on the move. 4 leg segments are a bit long to extend, especially compared to my Berlebach, that has only two segments.
The pro's:
Very light, very compact, budget friendly, stable within limits, easy to convert to 'without center column', then it is even more stable. Not expensive, comes with a carrying bag.
Verdict.
I am very pleased with this little tripod, it fits my motorcycle panniers, it is very light, it extends high enough for my landscape needs and it is stable in light windy weather. I'm a bit afraid that heavy conditions will not be good friends with this tripod, but If you are looking for an easy to carry companion for night shots or occasional landscape work, I can recommend! And at a very fair price of € 109, it won't break the bank!
Ludwig