A couple of weeks ago I was with another group at Côte d'Opale in France, for teaching landscape photography to adults in the KISP.be photography program. I wanted to pack light on gear to be able to focus on helping out my students and still be able to take some pictures myself. This made me decide that for this weekend I would only take my small Fujifilm x100T, and my lightweight Sirui tripod, bought for motorcycle traveling. The camera has a 16Mp APS-c sensor and a fixed focal length lens of 23mm or 35mm equivalent if compared to full frame viewing angle. It has a relatively wide f/2.0 max. aperture, and closes down to f16. I have it equipped with the optional sunshade and an extra hand-grip. The hand grip features the same dovetail grooves for arca-swiss compatible tripods as the camera itself does. So the grip bottomplate becomes the tripod plate.
This post will not focus on pixel-peepers image quality, rather on user experience.
Images down below.
THE GEAR USED.
Fujifilm x100T with MHG-X100 grip and the additional sun shade from Fujifilm. I use a custom strap from an old light-meter if I remember well.
Sirui T005-KX, featured also in this article, where I commented on using it with my DSLR. As you can see the tripod has a two segment center column which I mostly do not use, for extra stability. I have not needed the extra reach on this trip, and by omitting it, the ballhead has greater stability.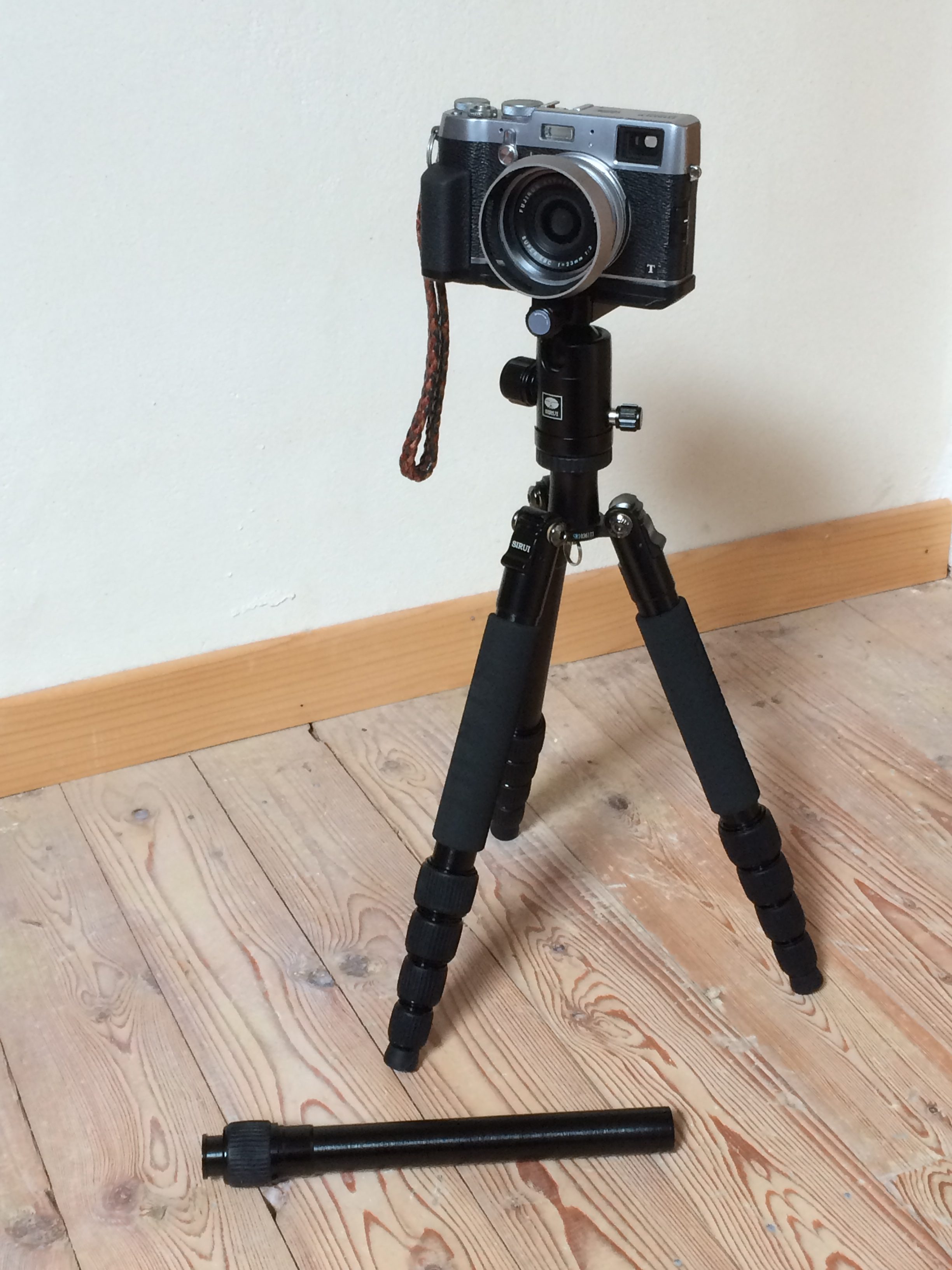 PRO limited gear set:
First and most important difference with a complete bag full of landscape gear is of course weight. Taking with me a professional range full frame camera body and a couple of quality lenses + my Berlebach tripod is a physical challenge not to be underestimated. 5kgs of photo gear, 3kgs of tripod, a bag of at least 1.5kgs and some food and drink supplies easily brings 10-12 kgs on the scale. The x100T and the Sirui mini tripod together weigh about 1.5kgs. A light backpack with some water and food supplies and I'm off like a butterfly to the cliffs of Cap-Griz-Nez. So this was for me a huge benefit, I never felt tired physically caused by dragging around gear.
Second benefit, and directly linked to the first one of saved weight, is manoeuvrability on difficult terrain. When dealing with a heavy tripod, with an expensive camera + lens, with a backpack that has the remainder of your gear on the back, you are limited in movements, in places where you can get safely with all your gear, in where you want to drop your bag to get out your filters, or just another lens, … With my lightweight setup I could take camera and tripod in one hand, leaving my other hand free for climbing and rock balancing exercises without limitations.
CONTRA limited gear set:
What I missed the most was the variation I have in focal lengths when travelling fully equipped with my DSLR setup. Although I mostly have fixed focal length lenses (24mm – 17-40mm Zoom – 50mm – 100mm – 135mm), they still allow me great variety in compositions, in bringing out distant landscape details or in compositing out disturbing elements. I can go much wider (17mm vs 35mm is a huge difference in viewing angle) or much narrower if I need to. I never missed a lens longer than 135mm in my landscape work. (This could be solved by adding the wide angle and the telephoto extender lenses you can buy for this camera, but they are rather expensive, and you loose some portability)
Next most missed was the Tilt-Shift lens I traditionally use on landscape trips. I often look for foreground elements in my compositions, to create depth in a wide angle view. The tilt-shift lens gives me the ability to get extreme depth of field in such cases, without the need for closing down the aperture too much. It also allows me to make stitched panoramic images with a horizontal viewing angle comparable to the 17mm lens. If I would need to limit my DSLR setup to one lens for landscape, it would be this lens: Canon TS-E 24mm f3.4 L II. (I'm afraid this cannot be solved with this setup)
Next thing I missed is the ability to do automatic bracketing, at least I couldn't find it in the menu, I since have looked it up on the internet and it is perfectly possible to do AE bracketing in 3 exposures. Shame on me, I should have read-the-f*******g-manual. So I ended up doing manual bracketing for most of the time. (little tip, always use bracketing, even when not needed. the time needed for bracketing exposures is minimal compared to the time needed to find your composition, setting up your tripod, setting the focus correct, etc. …  different exposures will give you more choice for development afterwards). (Solved issue, the bracketing function is under the 'drive' button. I looked trough the menu's only.)
Another thing I missed (because I don't have it) is the ability to use filters on the Fujifilm x100T. The camera has a built in ND filter (3 stops) but this is not enough for flatting out water surfaces or for streaking cloud movements over a long distance. It does help to lengthen your shutter speeds a little when shooting at dawn or at dusk, but it is not enough in most situations with broad daylight. This could be solved by investing in a filter system for this camera, there are several systems available on the market, like for instance the LEE seven 5 system. (there are two pictures below with the sea flattened out, they are taken late in the evening at a shutter speed of 30 seconds.
that's about it, the rest was comfort 😉
Oh by the way, there's a lot of ranting going around about these system camera's and battery life. I had two batteries, did not finish the first one the first day, which lasted from 6:31:51 am. (first picture) till 22:31:58 pm. (last picture). Of course I did not take a massive amount of images (92) because my main task is teaching, but in landscape photography I never do.
some images of our trip, with the occasional student in the frame.
I cropped all images to the same 2×1 ratio, I kind of like them that way.
Thanks for viewing, if you have any questions about this article, please comment, and on a side-note, after seeing my images of this weekend, I might sell this camera to buy its successor, the x100F, so if you are interested in buying mine, drop me a line.
Ludwig