(ENGLISH TEXT BELOW)
Ik doe heel wat sensueel-erotische fotoshoots met vrouwen. Een aantal zijn door mezelf geörganiseerd (voor mijn portfolio en kunst-prints), maar vaak krijg ik de vraag om een gelijkaardige shoot te doen op bestelling. Voor het zelfvertrouwen, voor gedeeld plezier met de partner, of gewoon om de eigen grenzen te verleggen.
Ik geef toe dat veel dames hiervoor de nodige zenuwen hebben. Het is in onze maatschappij helemaal niet evident om je bloot te geven tegenover een vreemdeling. Sommige mensen hebben al schroom om gekleed voor een fotograaf te verschijnen, laat staan naakt.
Ik wil je hierin graag gerust stellen. Na een honderdtal samenwerkingen met dames voel ik me zelf helemaal op het gemak in dit soort werk. Bovendien is het mijn taak om jou als model ook comfortabel te laten voelen. Ik zal je niet vragen om verder te gaan dan jouw comfort-zone, of die grens die je zelf gesteld hebt als zijnde 'veilig'. Dit wordt vooraf besproken. De meeste dames zijn trouwens veel meer gestresseerd vooraf, dan op het moment dat de kledij uit gaat.
Als je zou overwegen om jezelf te laten fotograferen in een intieme shoot, twijfel niet. Het wordt een ervaring om nooit te vergeten, je maakt een souvenir dat voor je hele leven blijft, of in elk geval veel langer dan het laatste bezoek aan de kapper of het schoonheidssalon. 😉
Onder de Engelse tekst vind je wat getuigenissen, veel vrouwen vragen zich af of ze het wel zouden kunnen, en hoe één en ander in zijn werk gaat. De getuigenissen zijn van dames die een (gedeeltelijk) naakt shoot hebben gedaan met mij. Ze hebben zelf de woorden gekozen, hoe ze zich voelden voor, tijdens en na de shoot. Ik heb de namen weggelaten ivm privacy.
Ik heb ze vier vragen gesteld:
Wat heeft je overtuigd om de shoot te doen?

had je twijfels of angst vooraleer je ja hebt gezegd?

Hoe is de shoot verlopen, voelde je comfortabel en rustig tijdens de shoot?

Hoe zijn de resultaten bevallen?
Als je overtuigd geraakt bent, ga dan meteen naar de contact pagina om een afspraak vast te leggen.
Als je nog wat meer info wil over hoe zo'n shoot in zijn werk gaat, lees dan even door op de pagina naaktfotografie info . Op de pagina naaktfotografie tarieven lees je ook wat het budget is voor een naakt-fotoshoot.
ENGLISH TEXT
I do a lot of intimate portraiture with women. Most of them are organised on my behalf, but some people would love to see themselves portrayed in a similar way, just for their own pleasure, for shared pleasure with a partner, or just out of curiosity or to push their own limits.
I agree, it can be an idea that at first seems a little daunting and scary, exposing yourself in your most vulnerable way, in front of a stranger. Even with clothes on, some people are nervous to be photographed, so what will happen when clothes fall off …
I would like to reassure you, I feel comfortable shooting women, and I will make every effort needed to make you feel comfortable as well. I will not ask you to go beyond your own limits, I will not push you out of your 'sacred safety zone', and most of the time you will not even remember that you've just undressed.
If you consider having yourself photographed, now is the time to do it. You will never be as young as you are now, (not telling that a more mature person is not evenly as beautiful as a young person), and you will create a souvenir that lasts forever, much longer than that latest visit to the hairdresser or the beauty-salon 😉
A lot of women out there are probably asking themselves if they could do it, if they would dare take part in such a photoshoot, and how things turn out. I have gathered some testimonials of women who have done a (partially) nude photoshoot with me. You can read their own words here, about how they feel, what convinced them and what they think about the results. I have omitted names, to secure their privacy.
I have asked my 'models' these four questions:
1. What convinced you to do the shoot?
2. Did you have doubts or fears before saying yes?
3. How did the shoot work out, were you comfortable and at ease during the shoot.
4. How did you like the results.
If your are convinced, head over to the contact page and get in touch with me today.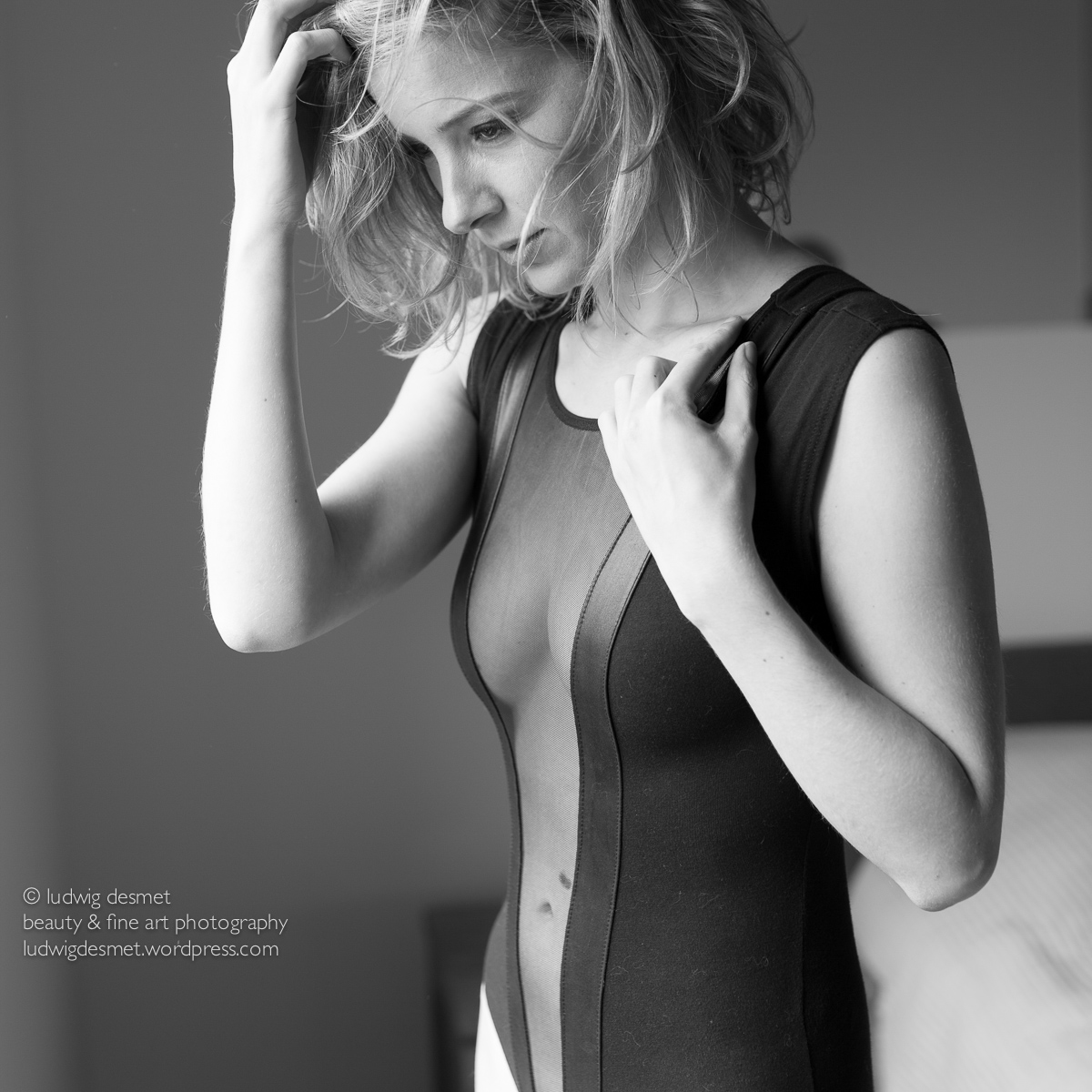 I would recommend everyone to shoot with Ludwig. He's an utmost professional photographer which makes you feel comfortable. Also, he leaves room for proper input so you can direct the shoot according to your own wishes. Overall, it was a very pleasant experience with great results.
Gtz,
Jenn
E.R. (in Dutch, sorry for my English followers, I think it's important for my regional audience to include one in the local language)
Van bij de start had ik een goed gevoel over de samenwerking.
Het feit dat jullie hier als koppel ook achter staan, dit samen veel met mekaar bespreken.
De vrouwelijkheid in haar geheel met mekaar bespreken.
Dat alles maakt dat je vooraf wel al weet dat het resultaat respectvol en mooi zal zijn.
Al vele jaren speelde ik met het idee mezelf dit ooit cadeau te doen.
Het heeft lang geduurd alvorens ik de stap kon zetten.
Enerzijds omdat je dit niet zomaar lukt met eender welke fotograaf, anderzijds ook omdat dit een grote stap voor mezelf is/was.
Toch ben ik ontzettend blij dat ik mezelf dit geschenk heb gegund.
Toen ik de foto's van de shoot zag kreeg ik spontaan tranen in de ogen, ik stond er puur op, zonder fotoshop…dat wist ik, en vond ik mezelf er mooi op staan. Dit was, is en blijft voor mij een bijzondere ervaring. Want zoals zovele vrouwen was, ben (?) ook ik onzeker over mijn lichaam.
Na al die jaren op die manier naar mezelf kunnen kijken voelde zalig aan!
Nu voelde ik eindelijk hoe mijn man mij ziet.
Ik zie in zijn ogen hoe mooi hij me vindt. Helemaal opgemaakt, maar ook op momenten dat ik moe of ziek ben 😉 Ik vond al zalig om te zien hoe hij naar me kijkt. Maar soms was dat ook een confrontatie met hoe ik mijn lichaam bekeek.
We zijn intussen enkele weken verder. En ik ben eigenlijk blij dat ik mijn getuigenis pas nu schrijf want ik dacht dat dit gevoel al snel zou weggaan. Maar eerlijk? Dat is niet zo. Ik voel me nu beter in mijn vel en wil dit gevoel zo lang mogelijk behouden.
En aan alle vrouwen, vooral diegenen die zich onzeker voelen over hun lichaam, wil ik vragen zichzelf dit ook cadeau te doen.
Het is zo de moeite waard! Ludwig, ik wil je bedanken voor je aanpak. Ik voelde me nooit ongemakkelijk.
Ik ervaarde dat je dit werk vanuit respect en vrouwvriendelijke visie doet.
Bedankt aan jullie beiden Nathalie & Ludwig.
Ook mijn man ben ik dankbaar, voor de blik in zijn ogen als hij naar me kijkt en omdat hij me deze ruimte schonk."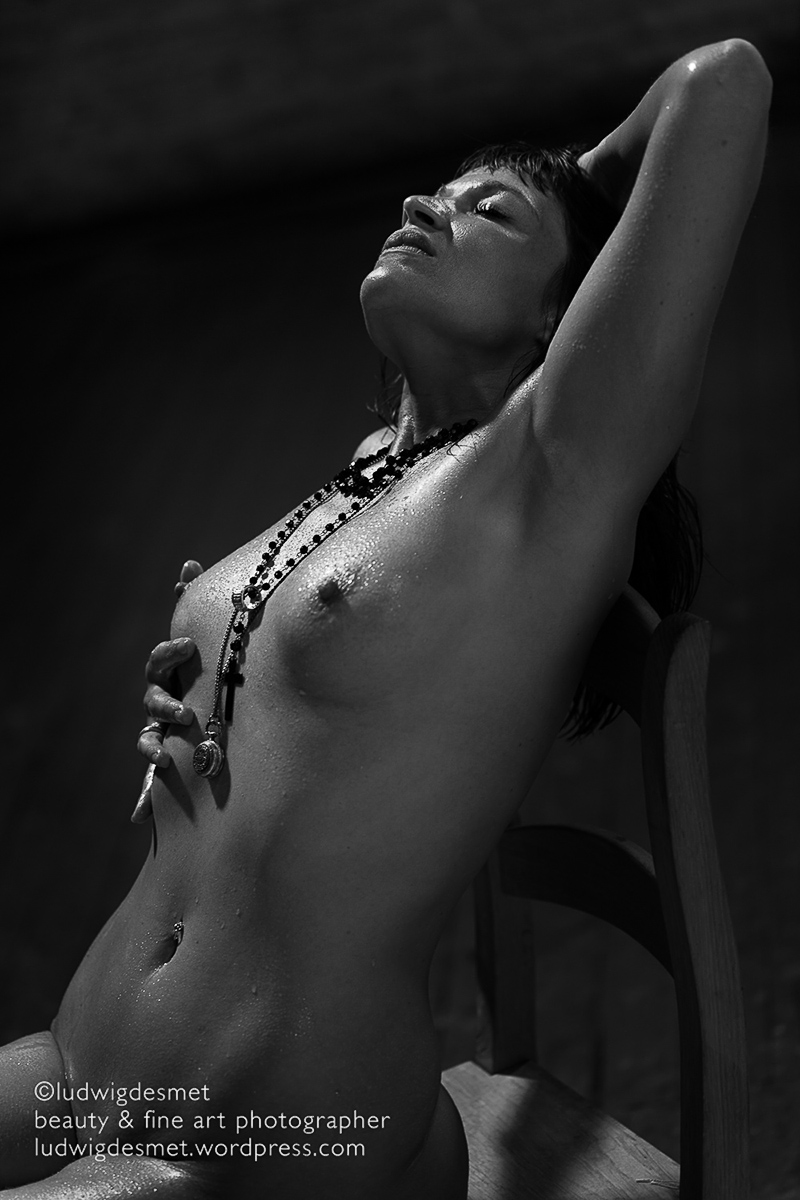 H.H.
the results of the previous shoot, less intimate, and the fact that I was completely at ease last time, has convinced me to do a nude shoot. You express quietness and professionalism, an ideal combination. The fact that as a result you get a splendid memory for later is a big motivator.
 

Most ladies I see in your pictures are very slim, and that is not the case with me, so I worried that I would not look good in nude pictures. In the previous shoot you managed to shoot me 'from my best side', so I had confidence you would be able to do it again, albeit with a small bit of anxiousness. 
 

I couldn't be more at ease than I have been with you! This wouldn't be the case with someone else. I would like to repeat about your quietness, professionalism and charisma. 
I found it a very fine experience, despite literally being 'nude'. Every woman should do this. You start looking at yourself in a different way. Every woman can be sexy.
 The first thing that came into my mind: 'WOW, is that ME?. You sure responded my trust and confidence, that you would make it another set of fantastic images!! There really are some magnificent images, even if I find it strange to say, because it's me who's in them. Actually it is a big boost of self-confidence!
P.M. (In French, but this was written so well I didn't want to translate)
Un nouveau shooting avec Ludwig qui est un photographe très délicat : c'est un vrai plaisir de travailler avec lui.
Il ne cherche pas à travestir la personne qu'il a face à son objectif et la respecte dans ce qu'elle a de plus naturel.
Lorsque Ludwig m'a montré les photos de ce travail, j'ai eu l'impression qu'il me montrait qui j'étais physiquement. Et grâce à lui j'apprends à apprécier ce que je vois de moi. Je sais que lors de cette séance, Ludwig a réussi à me mettre suffisamment à l'aise pour que je sois moi-même, je ne me sens donc aucunement « modifiée » par un jeu photographique. Il n'est pas question de chercher à photographier un modèle ou une une femme « belle », Ludwig cherche à photographier la personne qu'il a devant lui et à restituer la beauté de sa nature. C'est pourquoi je respecte et aime son travail, et lui suis reconnaissante.  (from paulinemarechal.wordpress.com)
J.G.
I have been thinking about doing a photoshoot several times before, but my uncertainties and lack of self-confidence were too big. A friend, often busy with photography himself, told me about his colleague who had a shoot with Ludwig, and was so pleased with the experience, ànd the results. That convinced me to go for it. My biggest fear was that I would be overwhelmed with my uncertainties during the shoot, and that I would not be able to relax and enjoy. That would ruin the experience for me, but would also prevent the photographer from making good pictures of me, despite his qualities as a photographer.
During the shoot, everything went much smoother and more relaxed than I had expected. Actually I could be myself. Ludwig gave me instructions about how to pose my arms, where to look, up or down, etcetera. I had the feeling that the photographer tried to get into my feelings, and that made me comfortable. The results are wonderful, actually a lot better than I expected. You can see for sure that I am uncertain at a certain level, so I know that in seeing myself I have a long way to go, but maybe … I'll do another shoot once. 🙂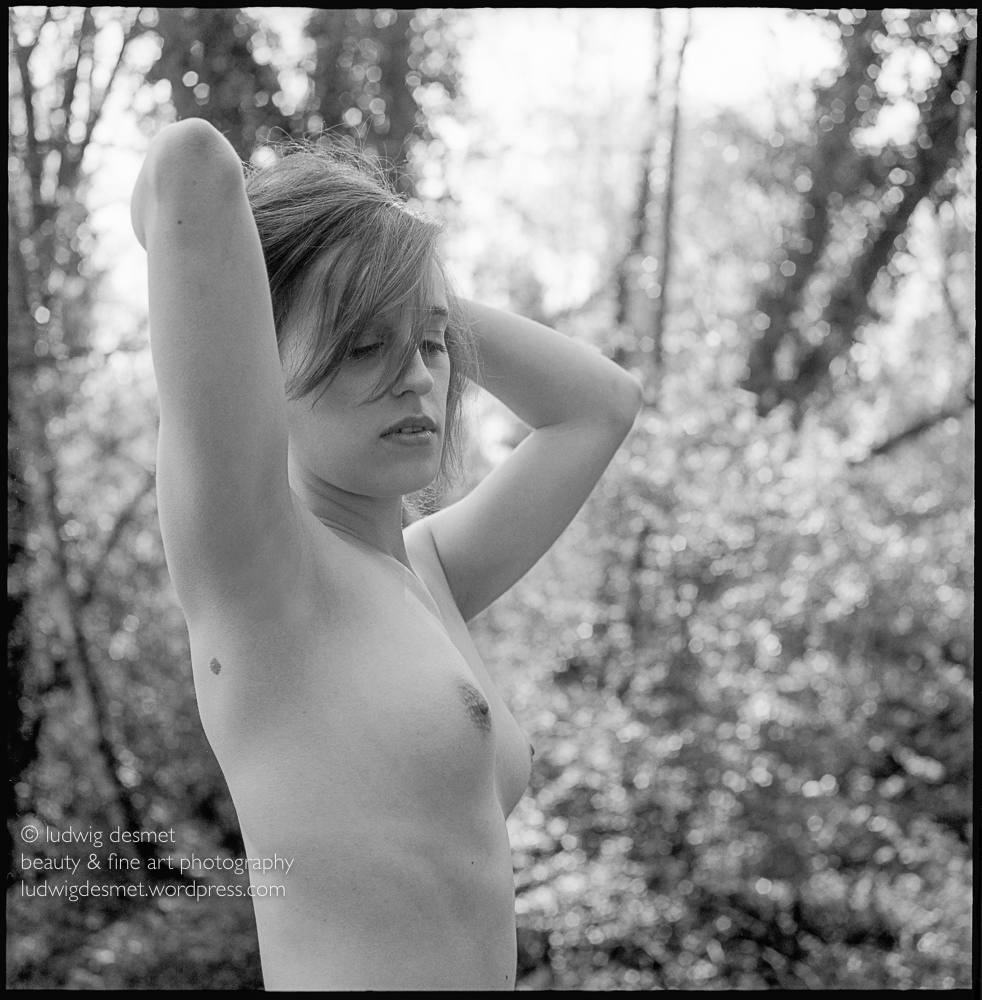 M.F: Another one in French, work on your languages, my English followers 😉
J'ai pris contact avec Ludwig pour la première fois grâce à ma belle-soeur qui avait déjà fais un shoot avec lui, elle m'a envoyée vers son blog et j'ai beaucoup aimé son travail alors je l'ai contacté et on a fixé une date pour le shooting. Ludwig a l'art de dénicher des endroits magnifiques! Ce jour-là c'était dans une propriété privée avec un très beau jardin. Je n'avais jamais fais de shoot photos avant celui-là, du coup j'étais un peu stressée au début, j'avais peur de ne pas savoir ce que je devais faire, comment se mettre, etc mais on a fait connaissance et très vite je me suis sentie à l'aise, et Ludwig me donnait des indications claires. Au final, j'ai passé un moment très agréable et les 3h de shoot sont passées très vites, je n'ai pas vu le temps passer. Quelques jours plus tard, j'avais déjà le résultat d'une partie des photos et elles étaient vraiment chouettes. Ludwig arrive à mettre en valeur ta personnalité et à garder le naturel. Si c'était à refaire, ce serait avec grand plaisir! F.M.