(ENGLISH TEXT BELOW)
Welkom beste bezoeker,
je kan het menu hierboven gebruiken om je weg te vinden op deze site. Je kan hieronder (via het driehoekje met +) zoeken in mijn BLOG, of je abonneren op nieuwe artikels. Als je mijn blog volledig wil doorlezen, dan best een paar weken verlof voorzien, en een hapje en een drankje. De blog bevat heel veel beelden, fotografie-tips, materiaalbesprekingen, reviews over tentoonstellingen enzovoort.
Naast mijn blog vind je ook mijn portfolio-pagina's 'BEAUTY' EN 'LANDSCHAP'. De eerste bevat een selectie aan beelden die ik maakte met modellen, of gewoon vrouwen die graag eens voor de lens staan. Ik hou van vrouwen, van hoe ze eruit zien, hoe ze zijn, praten, bewegen, én ik hou ervan om ze in beeld te brengen in hun veelzijdigheid.
Ik hou ook van het landschap, het buiten zijn, met de neus in de lucht en de voeten op de grond (of op twee wielen). Ik leg vast wat mij aanspreekt, en ga niet specifiek op zoek naar het 'mooie' landschap, maar probeer in een eigen stijl het landschap in beeld te brengen.
Wil je graag zelf eens voor mijn lens staan, voor een portret- boudoir- of naaktfotoshoot, neem dan een kijkje bij FOTOSHOOT voor meer informatie hieromtrent. Je kan ook een FINE ART PRINT kopen of een BOEK, als je liever niet voor de lens komt, maar wel van mijn werk kan genieten. Voor elk wat wils dus, en in elk geval …
… geniet van je bezoek!
Ludwig
Beeld: Poster van de huidige tentoonstelling.
Als je van mijn werk hebt genoten, wat hebt bijgeleerd uit mijn blog, en hiervoor graag iets terug wil geven, via de Paypal button hieronder kan dat. Mijn oprechte dank daarvoor.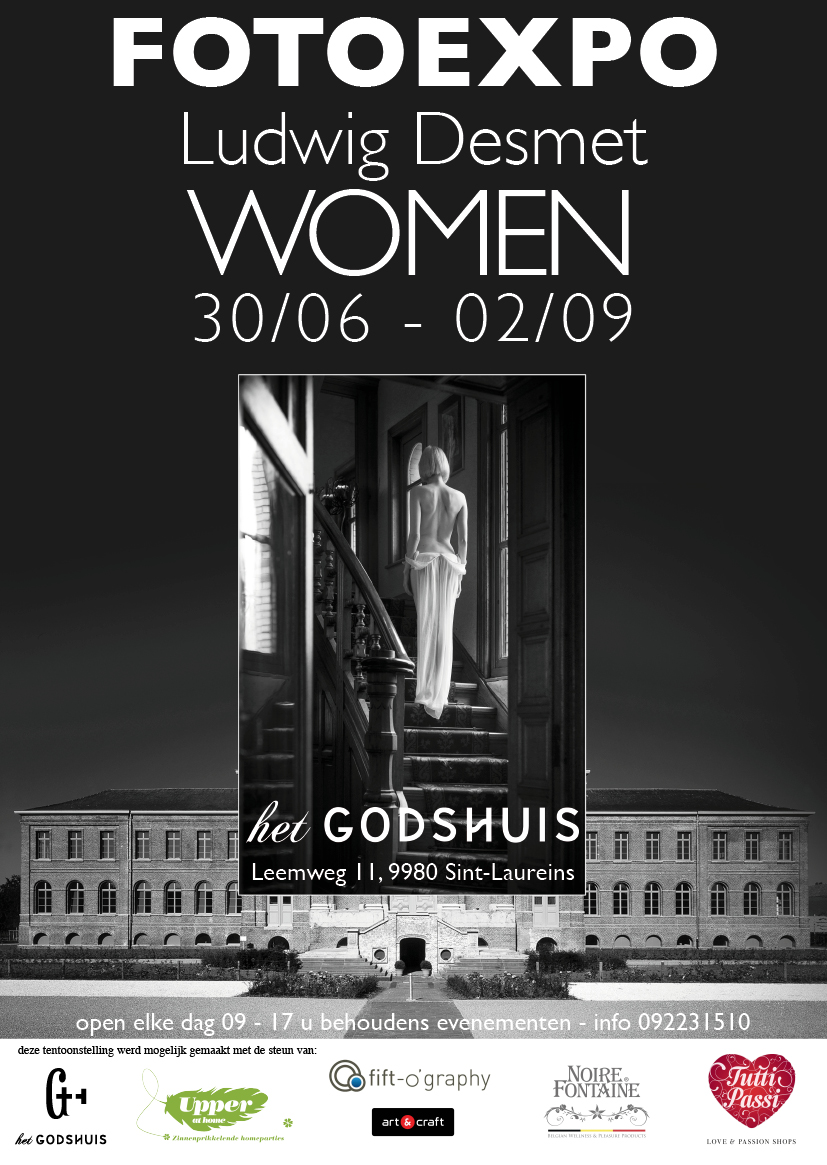 Welcome visitor,
please use the menu above to help yourself around. You can subscribe to my blog by clicking the black + triangle down this page.
If you intend to read trough my entire BLOG, take a week off, have some food and drinks ready, sit back and relax. It contains a lot of images, shooting tips, gear reviews, exhibit reviews etcetera.
Next to my blog you'll find my portfolio pages, BEAUTY, where I gather alle images concerning the female subject.  I love women, I love how they look, how they act, how they talk, and I love making pictures with them.
This site also contains my LANDSCAPE photography portfolio, being in the outdoors, having the nose in the air and the feet on the ground, I try to show you what comes to me. Probably not the standard 'landscape' images you see around, but you might discover a new style of landscapes here.
In case you would like to have yourself photographed, take a look at my FOTOSHOOT page, with more information on photoshoots (currently dutch only). If you'd rather stay away from the camera, but you still enjoy my work, then you could consider buying a FINE ART PRINT or a BOOK. So there is something here for everybody, and make sure to …
… enjoy your visit!
ludwig
Image: Poster for next exhibit.
If you love my work, if you learnt something by reading my blog and want to give something back, or just out of sympathy, you can donate here: