I have finally decided to create a studio space in an old factory building that is situated in my own garden. The building is not really in good shape, but it is more or less weather-proof and this should be enough to keep me running for the next couple of years.
What I did: Within the volume of the first floor (approximately 8 x 12 meters) I created a smaller volume, approx 4.5 x 8 meters that I have completely 're-finished'. I got rid of the roller shutters in the windows, I re-plastered the brick walls with natural clay, I put up a new wall in timber structure and re-painted the whole thing. I just finished a large double barn door this week. This ensures the poly-valence of the space. In case I need to bring in large items, that's perfectly possible.
I wanted to keep the space as simple as possible, and I divided the long side in two halves, a dark side and a bright side. The dark side is handy if you want to have full control over your light, with virtually no light spill off the walls/ceiling. The bright half is interesting whenever you are looking for fill light on your subject.
There's still a lot to be done, but last week I could do a first shoot in this new space, and I'm very glad my client Sofie has approved to use some of the images in this blog post. The session took about 3 hours and  I'm sure you'll be as impressed with these results as I was. Sofie never posed before, she's a natural! Thank you Sofie for your enthusiasm and your confidence!
Some of the images were taken with studio light (studio flash) and others were taken with available light only. All were taken with the help of ambient music 🙂
First a series with a single flash head, standard reflector with 20° grid aimed at a white wall. The grid limits the width of the light beam and creates a nice falloff on the wall. It creates a rather hard shadow. The flash light overrules any available light there might be in the space.
I found them to be very fashionable.
We continued with the same setup, single flash but I'm using another wall as background.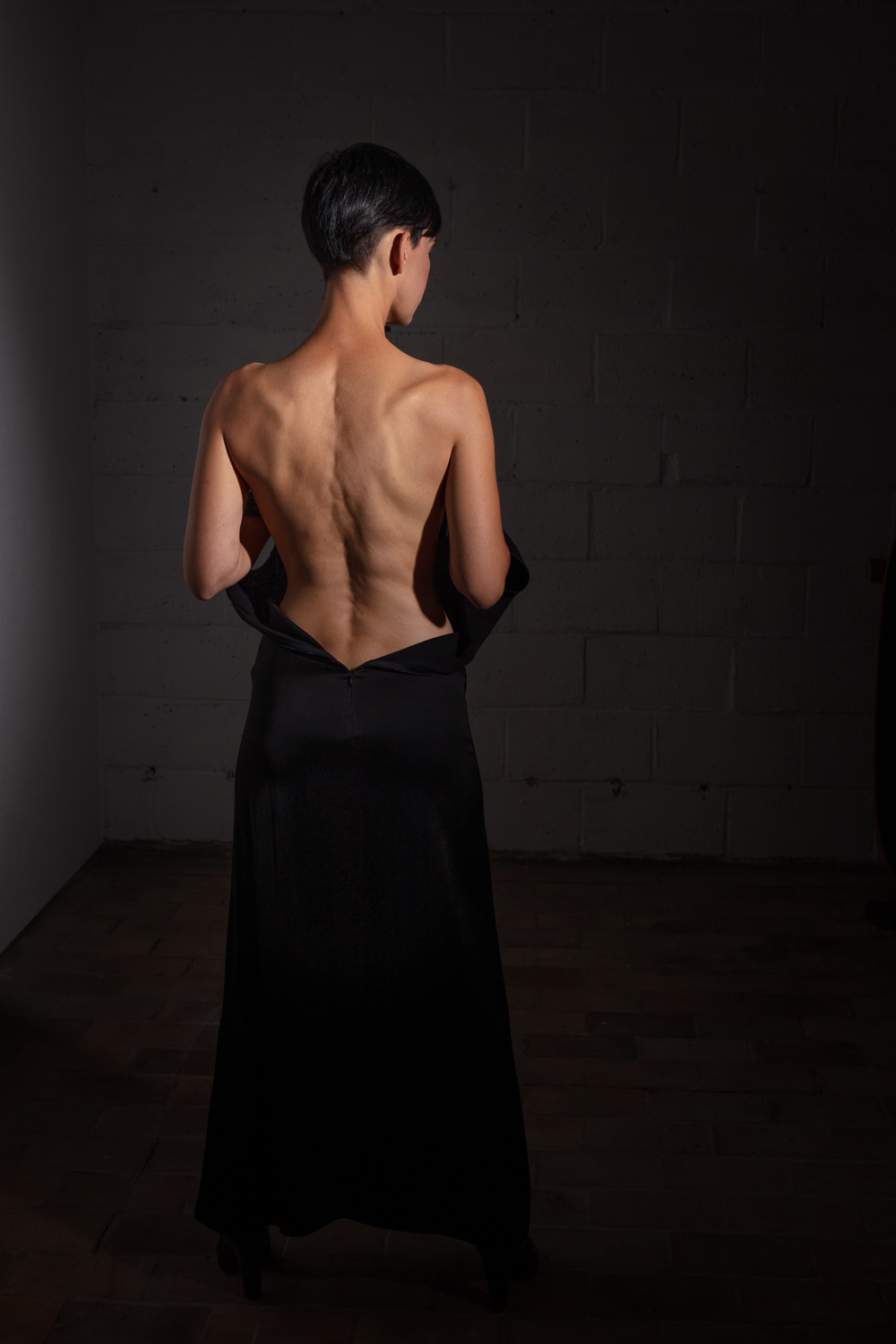 Below the white wall reacts as a perfect reflector for the models face. The shadow gets harder the closer the model comes to the wall.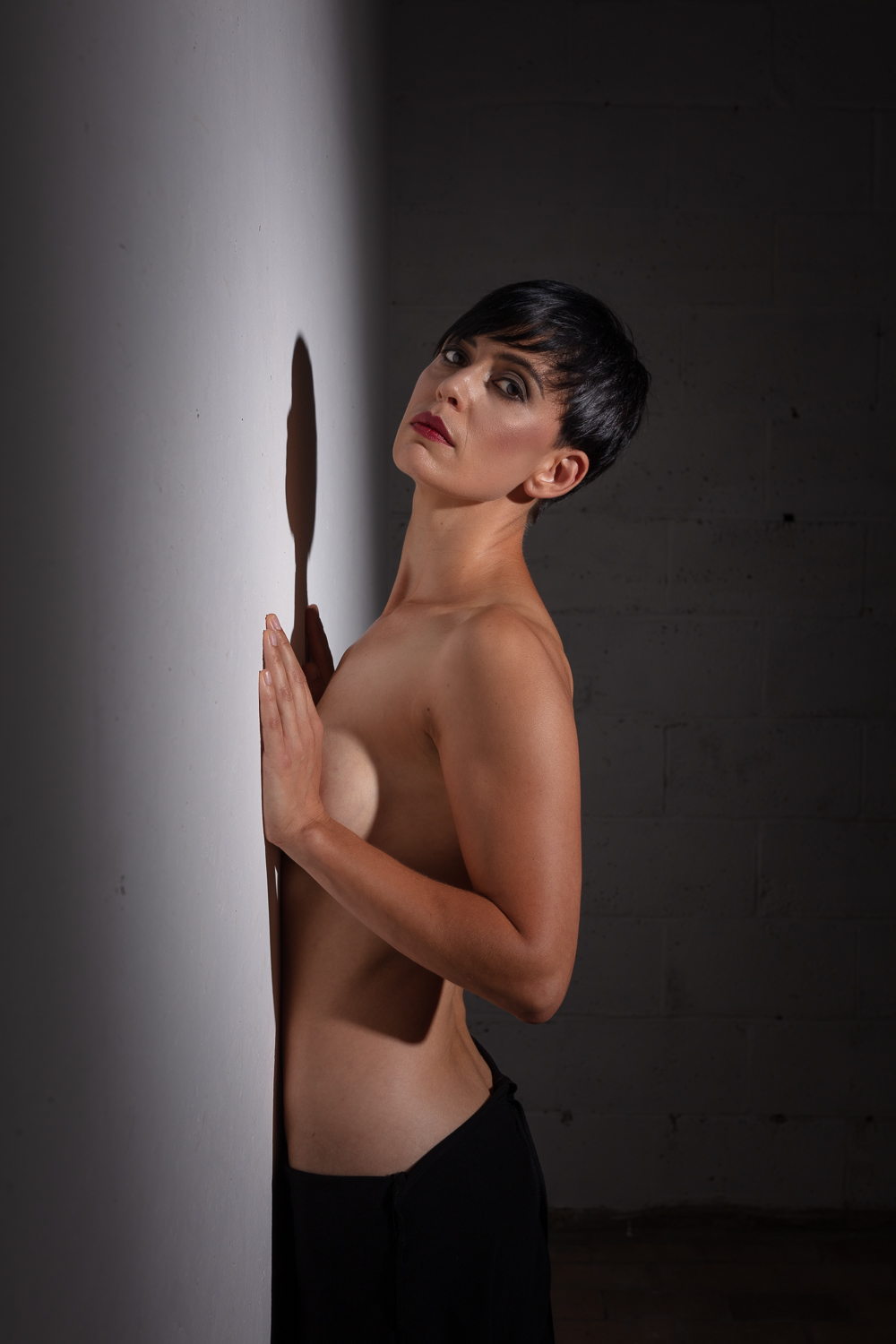 As I have a dark side and a white side, I have one sharp black/white edge. I used a styrofoam board as a second white surface behind the model. Single flash with 100 cm octa softbox.
From the garden shed I recovered this old work bench, cleaned it up and it will now serve a second life as studio prop. Full of character, a ton of possibilities and well contrasting with the female curves. Two flash heads left and right, small square softbox 66 cm each. By removing the subject from the back wall I can keep the background perfectly black.
Another setting at the dark side, a single softbox slightly higher than the model, model laying down on a black trunk. Using the light as a feather light over the body. Styrofoam panels on the opposite site give just a hint of volume in the shadow areas.
And then at last, over to the bright side again, using available light only, and with the help of the white wall for fill light I get a beautiful overall light.
And last but not least, did we have fun? Yes, of course, we had a lot of fun.
Sofie wrote me in a message afterwards 'Ludwig, thank you for making this such a wonderful experience … ' . Well, I guess that's what this is all about. Making women feel great about their body, giving them the space they need to build self-confidence and then, as a privileged witness capture this beautiful moment in images.
Thank you for reading this blog post, If you are a photographer and interested in building your own space, I hope you've learnt something. If you are thinking about booking a shoot session yourself but you are not really sure what to expect, here you have it. In an afternoon's time, you can have yourself depicted in beautiful, sensual, intimate images and never forget that moment!