I have printed a couple of books trough the Blurb services already, and wanted to make a new collection of prints for my location search. It is always handy to carry an overview of recent work with you, if you want to negotiate the possible use of a place/building/location for future shoots.
I had made a lightroom book, which I mostly do, and published it to the Blurb website the usual way.
Blurb has proved to be a quick and reliable partner, and this was not different this time, hardly a week later, my order got shipped, next day delivery at home. March 20th.
Curiously running trough the pages however, I noticed something wrong all the way, on two facing pages. A stain running vertically over the pages: (sorry for the sloppy images)
So I opened up a support ticket with Blurb.
Received a message that same day, that I would get a replacement copy printed, at no extra cost.
(very swift reaction and no discussion, thumbs up for Blurb)
Second copy arrived a week later. March 27th. Of course I ran trough the book immediately, finding out that there were no stains in this book, but that every page had an ugly bue-green color cast on it. My models certainly don't look good in green. 🙁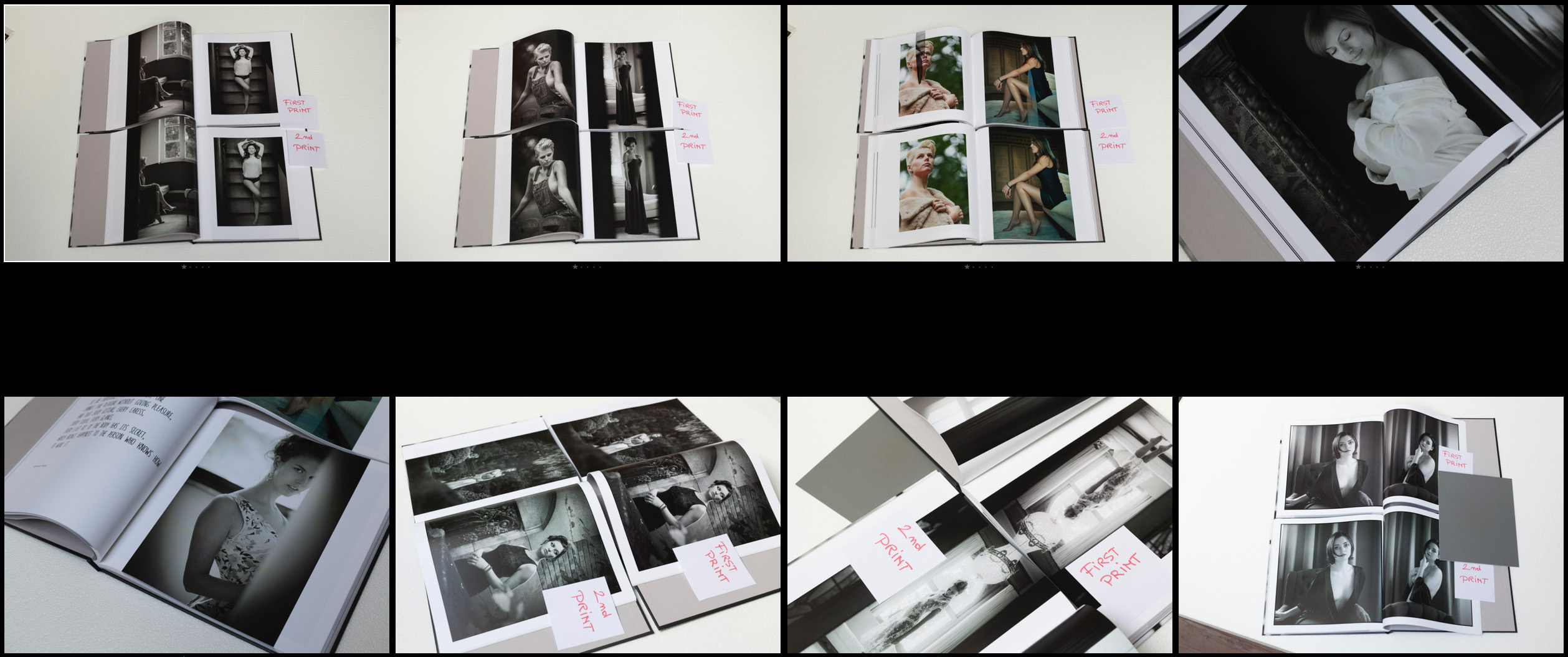 Re-opened the same support ticket I had before, thanking them for dealing with the print stains, but complaining that my models looked green, and that the color reproduction was too far off target for a photo book. … It took a while before I received an answer this time, and first thing they answered me was that they needed advice from a colleague that was not present at that time to make sure that this qualified for a reprint, so it could take a while. It took a week, before I got nervous and re-asked my question on the status of my support ticket. Then came the answer from another person, that indeed 'people at Blurb need to work very fast and that colour shifts happen in digital printing, etc … '
Well then, I've answered the friendly person, I have been working in the printing industry before (which is true, I am a graphic designer and I worked in prepress and publicity companies before) and that I am aware that some colour variations do occur, but that I was also aware of the existence of calibrated workflows, and that Blurb, as a main partner with Adobe Lightroom needed at least to be able to prove that they could do better than this, as they had done in the first print (which had good colour reproduction). That this was a portfolio piece that I wanted to be proud about, and that it was not the case right now.
One day later I received a message that I would receive another printed copy of the book, at no extra cost.
A week later my new book arrived, a good one this time.
thank you Blurb, for dealing with your own quality issues.
ludwig