Als primeur, een post op mijn blog in het Nederlands.
Ik krijg vaak het commentaar dat het gemakkelijk is om mooie jonge vrouwen op een mooie manier te fotograferen, maar dat 'eens op leeftijd', dat toch niet meer werkt.
Daarom ben ik een paar maanden terug begonnen met een nieuw project, 'the Age of Beauty, the Beauty of Age', waarin ik 50+ dames fotografeer op een vergelijkbare manier als ik met jongedames doe. Ik kreeg hiervoor al enkele dames voor de lens, maar ben op zoek naar meer kandidates hiervoor. Ik wil die in principe ook pas naar buiten brengen als ik een reeks klaar heb. Vandaag maak ik hierop een uitzondering, om het project wat een boost te geven, maar ook omdat ik net een getuigenis binnen kreeg die zo mooi is dat ik dat niet kan laten (met toelating uiteraard)om die te laten lezen. De foto hoort bij deze getuigenis, en lees vooral zelf de woorden van Amélie, onder de foto: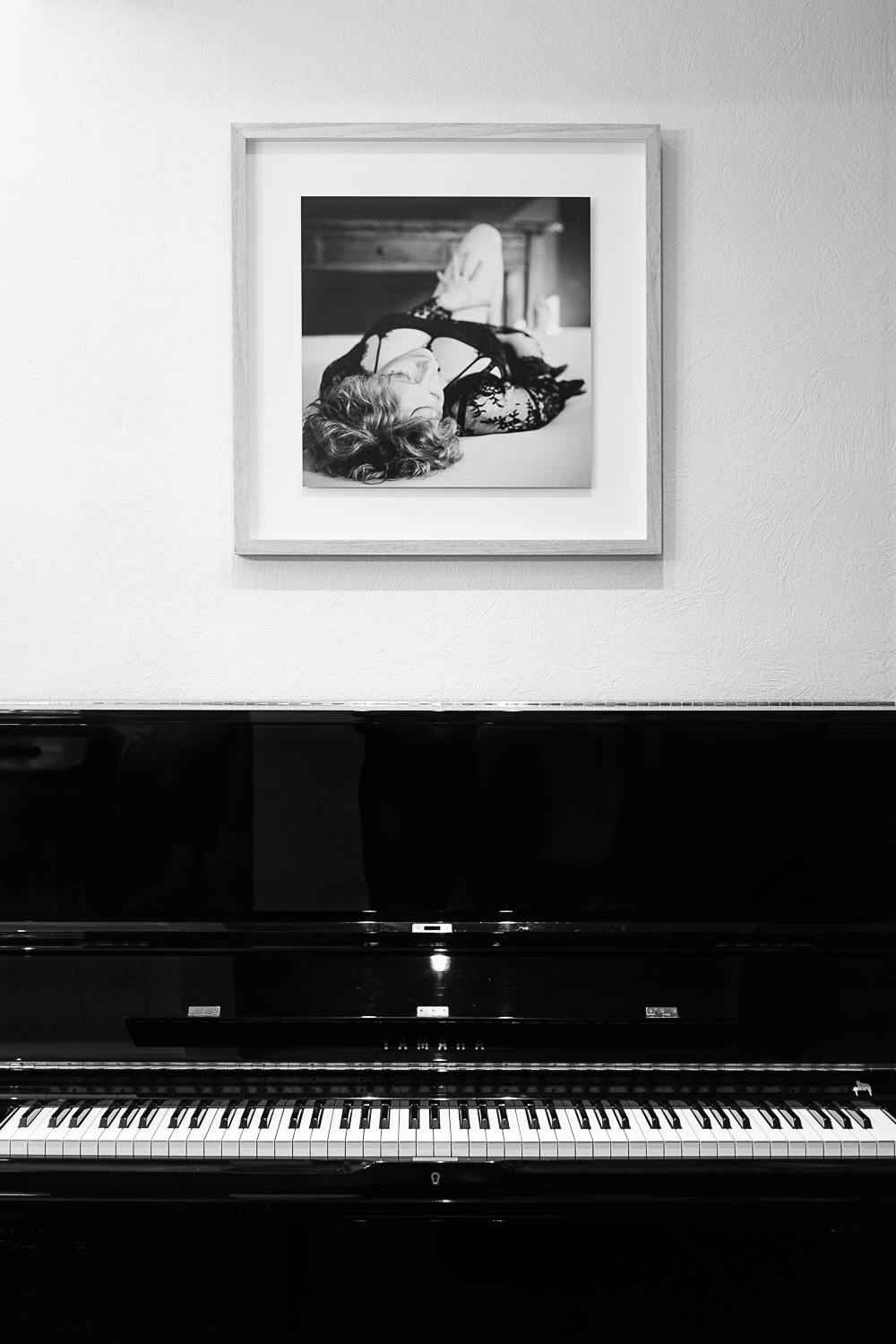 'Of ik het zag zitten om mezelf bloot te geven, letterlijk dan'… daar kwam de vraag van één van mijn beste vriendinnen op neer in mijn mailbox . Een bevriend fotograaf was begonnen met een mooi project voor vrouwen van onze leeftijd, 'Age of Beauty, the Beauty of Age',…
Zij had het aangedurfd, het was een unieke belevenis zei ze. Ik las de tekst met uitleg van de fotograaf en hoorde haar ervaring en dacht in eerste instantie 'dit durf ik niet', zoals de meeste vrouwen denken als ze op een leeftijd gekomen zijn waarbij het lichaam niet meer is wat het ooit geweest is…
Wat ben ik blij dat ik mij heb laten overtuigen! Na een eerste gesprek met Ludwig wist ik dat ik dit avontuur met volle vertrouwen kon aanvangen, het was nu of nooit, en enkel met deze fotograaf. Ik had het met niemand anders aangedurfd.
De avond voor de grote dag kroop ik vroeg in bed om er de volgende dag op mijn best uit te zien, maar om middernacht zat ik alweer beneden… toch een beetje stress?
Die dag is er eentje geworden om nooit te vergeten, een unieke dag die steeds een glimlach op mijn gezicht tovert als ik eraan terug denk. Alles is zo vlot verlopen, ook al wist ik helemaal niet hoe eraan te beginnen, deze fotograaf maakt je rustig, laat je genieten van jezelf en de lens, soms vergat ik gewoon dat hij er was.
De resultaten zijn nog mooier dan ik verwachtte, heel kunstige foto's met oog voor kleine details. Ook hier en daar een foto die mij wat confronteerde met mijn minder mooie kantjes, maar ik ben wie ik ben en zo sta ik ook op de foto's, puur en soms een tikkeltje speels, een tikkeltje ondeugend 😉
Mijn man was enthousiast en wist meteen welke foto hij op canvas aan onze muur wilde. Ik twijfelde wel even om hem op deze plek te hangen; zichtbaar voor iedereen… maar hij hangt hier prachtig en wij zijn er beiden fier op!
Aan Ludwig en zijn vrouw: jullie zijn beiden prachtige mensen die een heel mooie kijk hebben op het vrouw-zijn, bedankt voor deze fijne dag. Ik had dit waarschijnlijk nooit gedurfd toen ik jong was en strak in het vel zat, maar nu kom ik met plezier nog een keertje terug.
Aan mijn vriendin, bedankt om mij een stukje van mezelf te leren kennen dat nog ergens verborgen zat, zonder jou had ik deze mooie ervaring nooit gehad.
Aan alle vrouwen met een jaartje meer, niet twijfelen, eens kennis maken, genieten van een mooie dag, in ruil krijg je een mooie herinnering voor de rest van je leven en een boost voor je zelfvertrouwen!
Zo hoor je het ook een keer van een ander, dus dames, jullie zijn welkom !!
groeten,
Ludwig